Integrate E-C online dictionary lookup into your mozilla/firebird/firefox
(note: netscape is extended from mozilla.)

Download Here (Firefox 1.5+) -- Dec 27, 2016

BTW, we have Chrome extension too.

-- Dec 27, 2016 updated file to support Firefox new policy requiring signing

-- Oct 25, 2011 updated new file for Firefox 7.0

-- April 16, 2011 updated new file for Firefox 4.0

-- Feb 19, 2010 updated new file for Firefox 3.6

-- Jul 19, 2009 updated new file for Firefox 3.5

-- Sept 26, 2008 I updated new file for Firefox 3.0.*.

-- Jan 26, 2006 I updated new file for Firefox 1.5. I will merge them together later.

-- May 23, 2005 I updated the file to fix the problem in Firefox 1.0.3 and 1.0.4.

Tips: it is better using right-click the link and save as a local file and use File Open the saved file later. After you open the file, it will prompt for confirmation of installation.
I have tested on both Windows and Linux

Besides ECDict Lookup menu item, it includes "Search in umdb.com" and "Search in amazon.com". Both are my favorite sites.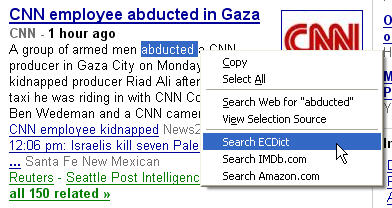 No .exe, .dll, .com files inside, no malicious code.
Two locales included: en-US, zh-CN.
zh-CN was not tested. Please let me know whether it works well or not.

How to install
1) Directly click the above link for installation.
(If directly click the link can't bring up the installation, please right click the link and save file into your local disk, then use File Open menu to open the saved file without changing the extension.)
2) It will bring up Software Installation dialog with the warning. Ignore the warning and click 'OK'.
3) It will ask you to restart your browser.
How to use
(Only available for late version of Mozilla family browsers - Mozilla/Netscape/Firebird/Firefox)
1) Whenever you want to look up a word in the Mozilla, just double-click the word and highlight it using mouse or keyboard, then click right mouse button, select "Search ECDict"
You will get the TigerNT Mini Dictionary pop up.
How to disable
1) Select Options menuitem under Tools
2) Select Extensions tab
3) Select the ECDict in the extension list
4) Click the Disable Extension
You can enable it back whenever you want it back.
How to totally remove
(I copied the following from newsgroup. It works when I was debugging.)
(Extension installed in the program folder)
1. Exit Mozilla
2. Change to the chrome dir of your Mozilla application dir
3. Delete chrome.rdf and the overlayinfo dir (they are regenerated on next start)
4. Delete [extension].jar (or the [extension] dir, if it's used unpacked)
5. Remove every line with a reference to [extension] from installed-chrome.txt (usually there are two: one to the content and one to the locale)
6. A few extensions might use additional files; TBE for example has a tabextensions.js in [Phoenix dir]/defaults/pref to store its defaults in. Search through your app dir for such files and delete them.
7. Restart Mozilla
(Extension installed in the profile folder)
1. Exit Mozilla
2. Change to the chrome dir of your Mozilla profile dir
3. Delete [extension].jar (or the [extension] dir, if it's used unpacked)
4. Remove every line with a reference to [extension] from chrome.rdf and the overlayinfo dir. (usually there are two: one to the content and one to the locale)
5. A few extensions might use additional files; Search through your profile dir for such files and delete them.
6. Restart Mozilla
If you have questions, send email to Support
-- TigerNT, Mar 26, 2004